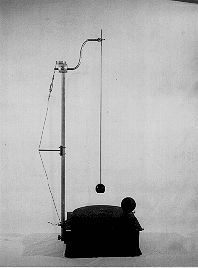 G1-12: PENDULUM AND ROTATING BALL
PURPOSE: To demonstrate that simple harmonic motion is the projection of uniform circular motion.
DESCRIPTION: A ball rotates on a phonograph turntable below a physical pendulum with a ball on its end. The device is shadow projected on a white screen using a bright point light source. The pendulum is set to the same period as the turntable, so when the pendulum is started in the correct phase, the projection of the rotating ball moves along with the projection of the pendulum.
SUGGESTIONS: Practice your timing.
REFERENCES: (PIRA 3A40.20)
EQUIPMENT: Pendulum-turntable assembly with point source of light (not shown in photograph)
SETUP TIME: None.
---