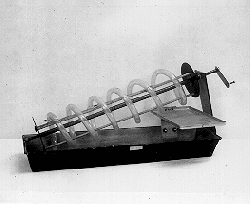 F4-53: ARCHIMEDES' SCREW
PURPOSE: To demonstrate a pump mechanism invented by Archimedes.
DESCRIPTION: Rotating the glass screw picks up a small amount of water each turn of the screw and transports it from the lower to the upper pan.
SUGGESTIONS:
REFERENCES: (PIRA 2B60.70)
EQUIPMENT: Archimedes' screw, as photographed.
SETUP TIME: None.
---