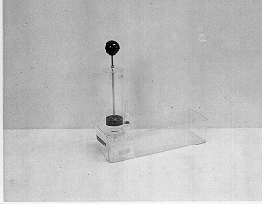 F4-52: FORCE PUMP - MODEL
PURPOSE: To demonstrate the operation of a force pump.
DESCRIPTION: As the plunger is pulled up, it causes water to fill the larger cylindrical chamber. As the plunger is pushed down, the water passes to a smaller chamber, from which it leaves by a nozzle to return to the reservoir.
SUGGESTIONS: Pump gently, support is plastic.
REFERENCES: (PIRA 2B60.80)
EQUIPMENT: Pump with water.
SETUP TIME: None.
---