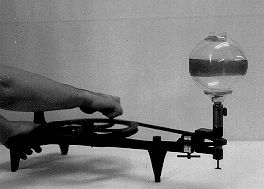 F4-21: LIQUID IN SPINNING SPHERE
PURPOSE: To show the behavior of a liquid when subjected to a centripetal force.
DESCRIPTION: When the sphere is rotated, the water leaves the bottom of the sphere and forms a band in the middle of the sphere, due to the reaction to the centripetal force.
SUGGESTIONS: Rotate sphere slowly to achieve this effect.
REFERENCES: (PIRA 1D52.35) See Demonstration Reference File.
EQUIPMENT: Rotator with sphere and colored water.
SETUP TIME: None.
---