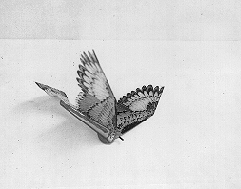 F4-15: FLYING BIRD MODEL
PURPOSE: To demonstrate the forces developed by the motion of a bird's wings.
DESCRIPTION: Turn crank less than 50 times, winding up the rubber band, then release the bird with a gentle push. This mechanism was invented by Leonardo da Vinci.
SUGGESTIONS:
REFERENCES: (PIRA unavailable.) See Demonstration Reference File.
EQUIPMENT: Flying bird model, as photographed.
SETUP TIME: None.
---