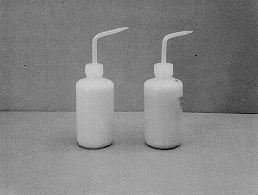 F3-21: SURFACE TENSION - ALCOHOL AND WATER IN SAND
PURPOSE: To illustrate the difference between the surface tension in water and in alcohol.
DESCRIPTION: One jar contains sand with water. When the jar is squeezed, the volume decreases and the water rises in the tube. Due to the surface tension of water, it is unable to flow into the small cracks opened up by squeezing.
A second jar contains sand with alcohol. When this jar is squeezed, the alcohol flows into the cracks, because of its much smalled surface tension, and the water level in the tube falls!
SUGGESTIONS:
REFERENCES: (PIRA unavailable.)
EQUIPMENT: Two sealed bottles of sand, one with water and one with alcohol.
SETUP TIME: None.
---