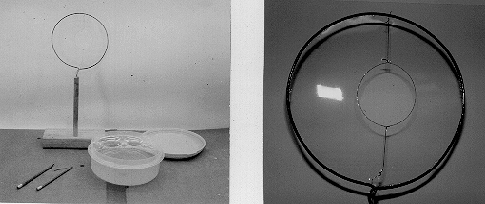 F3-05: SURFACE TENSION - THREAD IN FRAME
PURPOSE: To demonstrate surface tension.
DESCRIPTION: A thread with a loop at its center is connected across a diameter of a wire loop. Dip the wire loop into soap solution, then puncture the surface inside the thread loop. The loop expands as shown in the photograph due to surface tension.
SUGGESTIONS:
REFERENCES: (PIRA 2A15.10) See references for Demonstration F3-04.
EQUIPMENT: Wire ring on handle with wooden base, thread with loop in center, soap solution, pointed pencil.
SETUP TIME: 5 min.
---