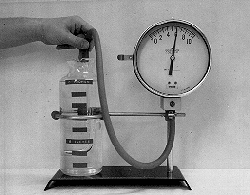 F1-02: FLUID PRESSURE VS DEPTH - ANEROID GAUGE
PURPOSE: To show water pressure versus depth with an aneroid gauge.
DESCRIPTION: An L-shaped glass tube, connected to an aneroid gauge, is immersed in water. The pressure at any depth is indicated directly on the gauge.
SUGGESTIONS:
REFERENCES: (PIRA 2B20.15) See also demonstration F1-01: FLUID PRESSURE VS DEPTH
EQUIPMENT: Calibrated jar of water, L-tube connected to aneroid gauge.
SETUP TIME: None.
---