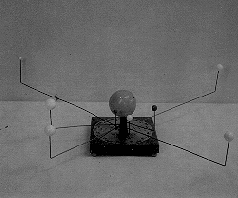 E2-31: SOLAR SYSTEM MODEL
PURPOSE: To illustrate the approximate angular disposition of the planets around the sun.
DESCRIPTION: The model consists of a central sun with radiating arms holding the planets. Positions can be adjusted to conform to reality.
SUGGESTIONS:
REFERENCES: (PIRA 8A10.00)
EQUIPMENT: Solar System model.
SETUP TIME: None.
---