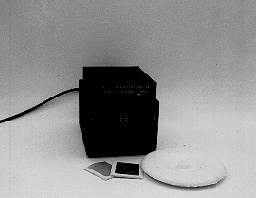 E2-24: UMBRA AND PENUMBRA - COLOR FILTERS
PURPOSE: To identify the source of penumbra regions.
DESCRIPTION: Two filters of complementary colors project nearly white light on a screen. When the styrofoam disc is inserted between the sources and the screen, the penumbral regions take on the color of the filter through which the light in th at region has traveled, because the complementary color is blocked by the disc.
SUGGESTIONS:
REFERENCES: (PIRA 8A10.30)
EQUIPMENT: Double point source with color filters (blue and yellow), styrofoam disc.
SETUP TIME: None.
---