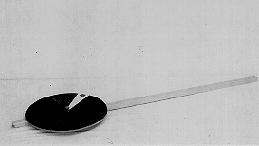 E2-32: EPICYCLE MODEL - PTOLEMAIC SYSTEM OF PLANETS
PURPOSE: To illustrate the epicycle nature of Ptolemy's model of the solar system.
DESCRIPTION: This device consists of a rotating wooden disc on a stick. Steadily rotate the stick around its end while simultaneously rotating the smaller disc. The dot in the light area on the disc represents a planet.
SUGGESTIONS:
REFERENCES: (PIRA 8A10.60)
EQUIPMENT: Model as photographed.
SETUP TIME: None.
---