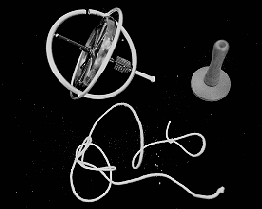 D4-25: GYROSCOPE - TOY
PURPOSE: To illustrate the gyroscope.
DESCRIPTION: After spinning the flywheel (either with the thumbwheel or using a string) the gyroscope can be placed on the pivot and allowed to precess and/or nutate.
SUGGESTIONS:
REFERENCES: (PIRA 1Q50.00)
EQUIPMENT: Toy gyroscope with string and pedestal.
SETUP TIME: None.
---