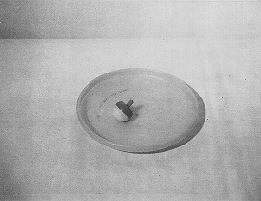 D5-01: TIPPE TOP
PURPOSE: An example of a gyroscopic effect.
DESCRIPTION: Start the top by spinning with the stem up and dropping it gently onto the table. As it spins, it begins to lean to the side then flips upside-down, rotating on its stem.
SUGGESTIONS:
REFERENCES: (PIRA 1Q60.30) See Demonstration Reference File for an enormous number of articles on this device. For something which no one understands, this sure gets a lot of attention.
EQUIPMENT: Tippe top.
SETUP TIME: None.
---