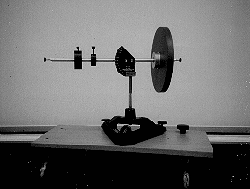 D4-24: GYROCOMPASS - MODEL
PURPOSE: To demonstrate how a gyrocompass works.
DESCRIPTION: A precision gyroscope sits on a platform on the rotating chair. As the gyroscope spins, the platform can be rotated. This is similar to a gyrocompass indicating a change of course.
SUGGESTIONS:
REFERENCES: (PIRA 1Q50.60) See Demonstration Reference File for further information on the gyrocompass and the precision gyroscope.
EQUIPMENT: Precision gyroscope, rotating chair with platform.
SETUP TIME: None.
---