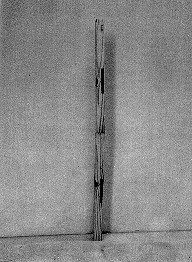 D2-12: TOPPLING CHIMNEY
PURPOSE: To demonstrate how a toppling chimney breaks up.
DESCRIPTION: Two wooden sticks, when toppled by a very gentle push (about one-third of the way down from the top), break up with rotation of the upper half lagging behind that of the lower half. This is similar to the breakup of real chimneys when they are toppled.
SUGGESTIONS: A nice 35mm slide is available showing a sequence of photographs of an actual toppling chimney.
REFERENCES: (PIRA 1Q20.50) See Demonstration Reference File for a number of interesting articles on this experiment and variations thereof.
EQUIPMENT: Two wooden sticks, assembled as photographed.
SETUP TIME: None.
---