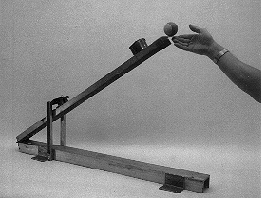 D2-11: HINGED STICK AND FALLING BALL
PURPOSE: Application of the rotational analog of Newton's second law.
DESCRIPTION: The hinged stick is held in place as shown with the ball balanced on the end of the stick. When the stick is released, it accerates faster than the ball, so the ball falls into the cup.
SUGGESTIONS:
REFERENCES: (PIRA 1Q20.50) See Demonstration Reference File for a number of articles describing variations of this apparatus.
EQUIPMENT: Hinged stick apparatus with ball, as photographed.
SETUP TIME: None.
---