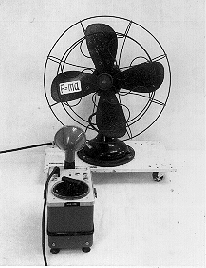 D1-01: STROBOSCOPE AND FAN
PURPOSE: To demonstrate rotational motion using a stroboscope.
DESCRIPTION: Using a stroboscope, motion of the fan can be slowed down, stopped, or "reversed." The idea of how a stroboscope works and the nature of rotary motion can then be discussed.
SUGGESTIONS:
REFERENCES: (PIRA unavailable.)
EQUIPMENT: Fan and stroboscope, as photographed.
SETUP TIME: None.
---