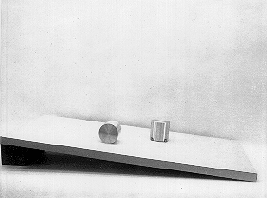 D1-61: ROLLING VERSUS SLIDING
PURPOSE: Application of conservation of energy in a rolling object.
DESCRIPTION: Q: Which is faster, rolling or sliding? An aluminum cylinder rolls down the incline. An identical cylinder has tiny ball bearings on one end so that it slides without friction down the incline. If the two cylinders are started from the top at the same time, which will reach the bottom first, rolling, sliding, or a tie? A: sliding is faster.
SUGGESTIONS: Let your students guess what will happen before performing the experiment.
REFERENCES: (PIRA unavailable.)
EQUIPMENT: Rolling and sliding cylinders, inclined plane.
SETUP TIME: None.
---