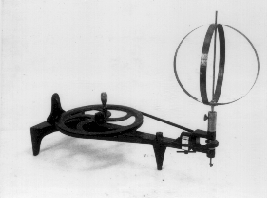 D1-55: ROTATING ELASTIC RINGS
PURPOSE: To demonstrate "centrifugal reaction" and to indicate why the earth is oblate.
DESCRIPTION: Turning the crank causes the elastic rings to rotate about the vertical axis. The "centrifugal reaction" then causes the rings to assume an oblate spheroidal shape like that of the Earth.
SUGGESTIONS:
REFERENCES: (PIRA 1D52.10)
EQUIPMENT: Elastic ring assembly and hand-cranked rotator, as photographed.
SETUP TIME: None.
---