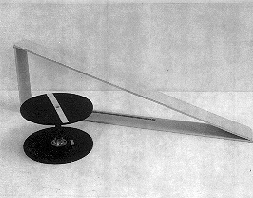 D1-62: CONSERVATION OF ENERGY IN ROLLING BODY
PURPOSE: To demonstrate conversion of gravitational potential energy into translational and rotational kinetic energy.
DESCRIPTION: The spool slowly rolls down the incline on its smaller radius, converting gravitational potential energy into rotational kinetic energy with a lesser amount of translational kinetic energy. When the spool reaches the bottom, the larger radius rims make contact with the table top, resulting in a sudden transfer of some of the rotational kinetic energy into translational kinetic energy.
SUGGESTIONS:
REFERENCES: (PIRA 1Q20.30)
EQUIPMENT: Spool with large and very small axels, inclined plane.
SETUP TIME: None.
---