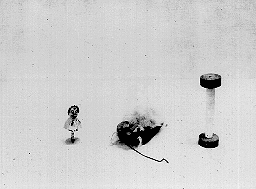 C8-12: JUMPING MASSES WITH INTERNAL SPRINGS
PURPOSE: To demonstrate conversion of internal energy of a spring into kinetic energy and then gravitational potential energy.
DESCRIPTION: Set device so as to store energy in the spring by compressing or twisting the spring. Release rapidly or as required to allow conversion of energy stored in the spring into other forms.
SUGGESTIONS:
REFERENCES: (PIRA 1M40.67)
EQUIPMENT: Duck, rat, and toilet paper cylinder.
SETUP TIME: None.
---