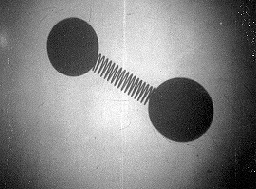 C8-11: INTERNAL VS EXTERNAL ENERGY - SPRING-COUPLED SUPERBALLS
PURPOSE: To show that when energy disappears from the center of mass motion it may be converted into internal energy.
DESCRIPTION: Hold the balls horizontally with the spring relaxed and drop; it should produce a high rebound. Then drop at an angle of about 45 degrees to the horizontal. The device will not rebound very high, but will develop a lot of internal energy, as evidenced by lots of spring vibration.
SUGGESTIONS: This is a model of diatomic molecule.
REFERENCES: (PIRA unavailable.)
EQUIPMENT: Two superballs connected by stiff spring, as photographed.
SETUP TIME: None.
---