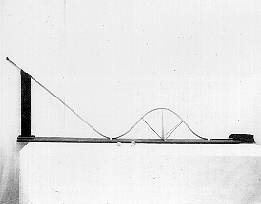 C8-04: HILL TRACK
PURPOSE: To demonstrate conservation of energy.
DESCRIPTION: A ball is placed at some point on the left side of the track and released. The motion of the ball down the track and over the hill can be described in terms of gravitational potential energy and kinetic energy. The ball must be released at some minimum height in order to pass over the hill.
SUGGESTIONS:
REFERENCES: (PIRA 1M40.25)
EQUIPMENT: Hill track, as photographed.
SETUP TIME: None.
---