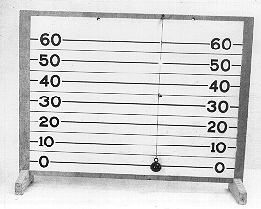 C8-03: GALILEO'S PENDULUM
PURPOSE: To demonstrate conservation of energy in a simple system.
DESCRIPTION: The pendulum is hung from the upper peg with the lower peg interrupting its swing to the right. When started from the left at a given height, the pendulum rises to that same height on the right, after being stopped by the lower peg.
SUGGESTIONS:
REFERENCES: (PIRA 1M40.15)
EQUIPMENT: Galileo's pendulum, as photographed.
SETUP TIME: None.
---