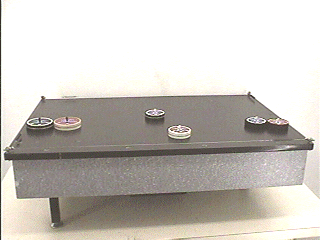 C7-43: AIR TABLE - SMALL - COLLISIONS OF PUCKS
PURPOSE: Demonstrate collisions of pucks on an air table in rooms not accessible by the large air table.
DESCRIPTION: This small air table can be readily moved on a small rolling cart into all physics classrooms. Both elastic and inelastic collisions can be demonstrated using a variety of puck masses. Velcro collars are used to create inelastic collisions.
SUGGESTIONS:
REFERENCES: (PIRA unknown.)
EQUIPMENT: Small air table on cart, variety of pucks and velcro collars.
SETUP TIME: None.
---