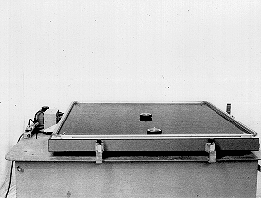 C7-42: AIR TABLE - COLLISIONS OF PUCKS
PURPOSE: To qualitatively demonstrate elastic and inelastic two-dimensional collisions.
DESCRIPTION: Two or more pucks can be used to demonstrate elastic collisions. Use velcro collars on pucks to produce perfectly inelastic collisions. Several masses of pucks are available.
SUGGESTIONS:
REFERENCES: (PIRA 1N40.20, 21, and 22)
EQUIPMENT: Air table, pucks, velcro collars.
SETUP TIME: None.
---