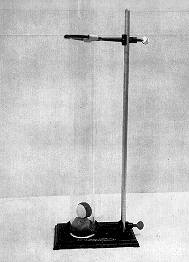 C7-15: COLLISIONS OF BALLS - 3 TO 1 MASS RATIO
PURPOSE: To show a velocity multiplication effect in colliding balls.
DESCRIPTION: The heavier ball, with mass of three times that of the lighter ball, is held touching and directly under the lighter ball. When the balls are released they strike the floor in a series of almost elastic collisions which transfers all the energy to the lighter ball.
SUGGESTIONS: This experiment can be done without the tube unless you have difficulty aligning the balls or you fear rebound of the lighter ball into your face.
REFERENCES: (PIRA 1N30.20) See also demonstration C7-4: AIR TRACK - COLLISION VELOCITY MULTIPLIER
EQUIPMENT: Superball, practice golf ball wound with black tape, glass tube with stand, as photographed.
SETUP TIME: None.
---