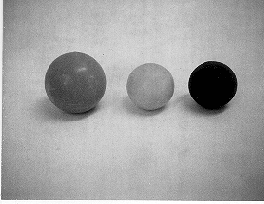 C7-14: COLLISIONS OF BALLS WITH FLOOR
PURPOSE: To illustrate collisions of different balls with the floor.
DESCRIPTION: Drop the three balls simultaneously. They rebound to heights dependent upon the elasticity of the collisions with the floor.
SUGGESTIONS:
REFERENCES: (PIRA unavailable.)
EQUIPMENT: Superball, squash ball, and pingpong ball.
SETUP TIME: None.
---