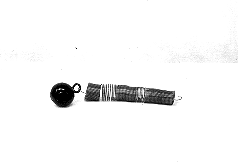 C4-53: WEIGHTLESSNESS IN FREE FALL - MASS ON SPRING
PURPOSE: To demonstrate weightlessness in free fall.
DESCRIPTION: When suspended by the end opposite the mass, the spring extends because of the weight of the mass attached. However, when the spring is released and allowed to fall freely, the system becomes weightless and the spring immediately contracts.
SUGGESTIONS:
REFERENCES: (PIRA 1G20.44)
EQUIPMENT: Mass on spring, as photographed.
SETUP TIME: None.
---