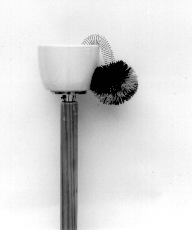 C4-52: WEIGHTLESSNESS IN FREE FALL - MASS IN CUP ON POLE
PURPOSE: To illustrate weightlessness in free fall.
DESCRIPTION: A mass hangs from a spring over the edge of a cup. Raise the pole vertically and release. Because the mass becomes weightless in free fall, the ball will be pulled into the cup immediately when the system begins to fall.
SUGGESTIONS:
REFERENCES: (PIRA 1G20.38) This demonstration was suggested by Einstein.
EQUIPMENT: Koosh ball suspended from spring in mortar mounted on pole, as photographed.
SETUP TIME: None.
---