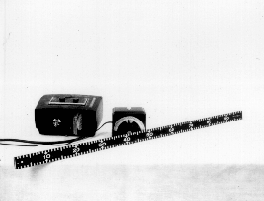 C2-42: VELOCITY ADDITION WITH FILM LOOP
PURPOSE: To illustrate vector addition of velocities.
DESCRIPTION: The film loop may be projected onto the blackboard showing a boat moving in various directions relative to a flowing stream. The metronome keeps time while the instructor marks the position of the boat on the board at selected time intervals. Velocity components or sums which can be included are: (a) velocity of stream, (b) velocity of boat with respect to land, (c) velocity of boat up the stream, (d) velocity of boat down the stream, (e) velocity of boat across the stream, and (f) velocity of boat as it moves diagonally across the stream.
SUGGESTIONS:
REFERENCES: (PIRA 1A40.00)
EQUIPMENT: Film Loop "Vector Addition - Velocity of a Boat," metronome, ,eterstick, as photographed.
SETUP TIME: None.
---