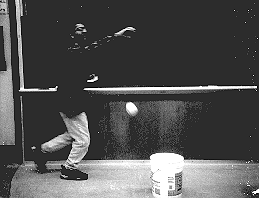 C2-28: TRAJECTORY OF BALL DROPPED BY WALKER
PURPOSE: To illustrate two-dimensional kinematics with a student activity.
DESCRIPTION: The subject walks along a line with his/her arm straight out holding a ball. As the subject passes a bucket, where must she/he release the ball so that it will fall into the bucket?
SUGGESTIONS: This experiment is described in a reference paper on the relation between development of physical intuition in children and their understanding of the laws of motion.
REFERENCES: (PIRA 1D60.21)See Demonstration Reference File for related papers.
EQUIPMENT: Ball, bucket, and victim, as photographed.
SETUP TIME: None.
---