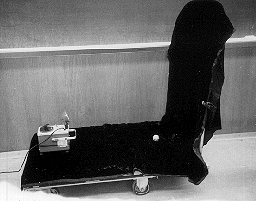 C2-09: FREE FALL WITH STROBE
PURPOSE: Show the position of a dropped ball at a series of equal time intervals.
DESCRIPTION: Drop the ball with the strobe on at the desired flash rate. The increasing distance the ball falls between successive strobe flashes is readily apparent.
SUGGESTIONS:
REFERENCES: (PIRA 1C.30.43)
EQUIPMENT: Golf ball, strobe, and cart with black felt backdrop.
SETUP TIME: 5 min.
---