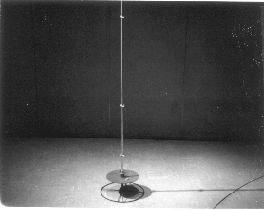 C2-07: FREE FALL - EQUAL TIME INTERVALS
PURPOSE: To show the geometrical nature of free fall.
DESCRIPTION: A nylon string has washers positioned along it at distances proportional to the squares of integers: 1, 4, 9, 16, and 25. When the string is dropped, the washers reach the bottom at equal time intervals. Sound is amplified by the sound board at the bottom of the drop on which the washers fall.
SUGGESTIONS:
REFERENCES: (PIRA 1C20.20)
EQUIPMENT: Nylon string with washers pre-positioned on pole assembly, as photographed.
SETUP TIME: None.
---