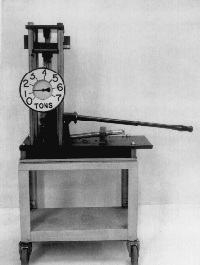 B4-31: FAILURE OF WOOD IN COMPRESSION
PURPOSE: To demonstrate the dependence of the compressional strength of wooden dowels on their diameter and length.
DESCRIPTION: Place dowel vertically between the plates of the hydraulic press, and compress dowel until it collapses. A 5/8" dowel requires about 1.0 tons, a 7/8" dowel about 2.2 tons.
SUGGESTIONS:
REFERENCES: (PIRA unavailable.)
EQUIPMENT: Hydraulic press with 5/8", 3/4", and 7/8" wooden cylinders.
SETUP TIME: None.
---