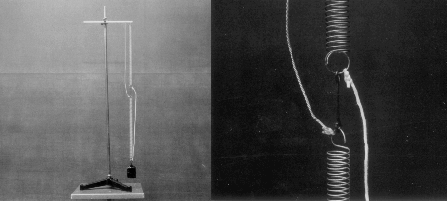 B4-04: SPRING AND STRING THING
PURPOSE: To illustrate series and parallel springs in a counterintuitive way.
DESCRIPTION: Two springs connected in series support a weight. Strings slightly longer than the springs are connected in parallel with each spring, as photographed. The connecting wire loop between the two springs is then removed, forming two separate parallel routes, each consisting of a spring and a string in series. Comparing the final configuration with the initial configuration, will the weight be higher, lower, or at the same vertical position?
SUGGESTIONS: Let your students vote before doing the experiment.
REFERENCES: (PIRA unavailable.) See Demonstration Reference File for interesting applications of this experiment to traffic flow and electronic circuits.
EQUIPMENT: As photographed.
SETUP TIME: None.
---