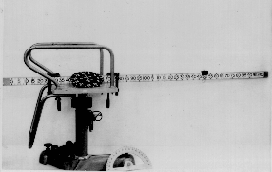 B2-21: CONCEPT OF TORQUE - TORSIONAL CHAIR
PURPOSE: To introduce the concept of torque.
DESCRIPTION: A rigid scale is attached to the torsional chair (with its spring attached). An arbitrary force (measured by the dynamometer) can be exerted at an arbitrary angle (measured by the protractor) at an arbitrary distance from the center of the chair (measured by the scale) to produce some arbitrary rotation of the chair against its restoring spring. Equal torques can be applied in several different ways, or torques can be scaled by changing one or more of the variables. Measurements are good to about ten percent.
SUGGESTIONS:
REFERENCES: (PIRA unavailable.)
EQUIPMENT: Torsional chair with rigid scale (attached using two clamps), dynamometer with movable clamp, and protractor, as photographed.
SETUP TIME: 10 min.
---