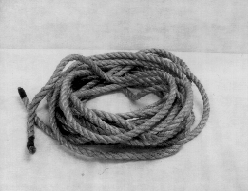 B2-16: VECTOR ADDITION WITH ROPE AND STUDENTS
PURPOSE: To demonstrate vector addition.
DESCRIPTION: Two "strong" students pull the ends of the rope. A "weaker" student pulls crosswise on the center of the rope. The ends of the rope will be pulled inward by a large force.
SUGGESTIONS:
REFERENCES: (PIRA 1J30.25)
EQUIPMENT: Rope.
SETUP TIME: None.
---