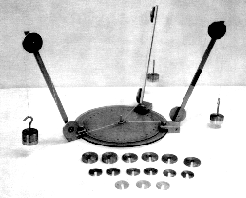 B2-11: EQUILIBRIUM OF FORCES - OHAUS PROJECTION
PURPOSE: To demonstrate equilibrium of forces.
DESCRIPTION: Forces are applied by hanging arbitrary weights on hangers over pulleys. The ring to which the forces are applied will stabilize symetrically about the center pin when the forces are in equilibrium. Forces can be applied at arbitr ary angles by rotating the pulley arms.
SUGGESTIONS:
REFERENCES: (PIRA 1J30.52) See Demonstration Reference File for manufacturer's instructions regarding many uses of this apparatus.
EQUIPMENT: Ohaus force table with miscellaneous weights, overhead projector.
SETUP TIME: 5 min.
---