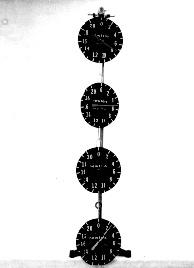 B2-04: VERTICAL FORCES - FOUR SPRING SCALES
PURPOSE: To show addition of forces along a line.
DESCRIPTION: Each scale shows the total weight of those hanging below it. The bottom scale measures its own weight.
SUGGESTIONS:
REFERENCES: (PIRA unavailable.)
EQUIPMENT: Four dynamometers on stand with lead brick weight.
SETUP TIME: 5 min.
---