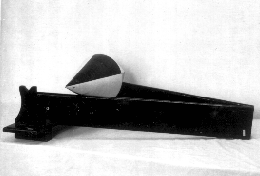 B1-06: DOUBLE CONE - LARGE
PURPOSE: To demonstrate a center of mass paradox.
DESCRIPTION: When the double cone is placed on the narrow end of the V-shaped rails it rolls to the wide end. The double cone appears to be rolling uphill, but in reality the center of mass is moving down.
SUGGESTIONS:
REFERENCES: (PIRA 1J11.50) Demonstration B1-07 is a smaller version of this demonstration.
EQUIPMENT: Large double cone on rails, as photographed.
SETUP TIME: None.
---