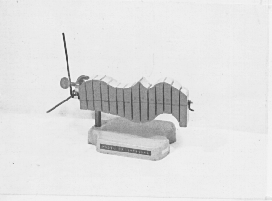 A2-42: INTEGRAL MODEL
PURPOSE: To illustrate two- and three-dimensional integrals, and to illustrate how to calculate an integral as the area of a surface.
DESCRIPTION: Three orthogonal wires represent the x,y,z axes. The integral can be viewed as the area of the front surface, which can be determined by summing the areas of the individual segments.
SUGGESTIONS:
REFERENCES: (PIRA unavailable.) See Demonstration Reference File for mathematical details.
EQUIPMENT: Integral model, as photographed.
SETUP TIME: None.
---