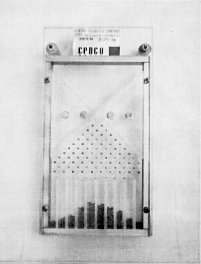 A2-51: PROBABILITY BOARD - PROJECTION
PURPOSE: To demonstrate the Gaussian distribution.
DESCRIPTION: Tilt device so that balls roll into top region. Then place board on face of overhead projector, allowing balls to roll into troughs with tha characteristic distribution.
SUGGESTIONS:
REFERENCES: (PIRA 1A20.10) Operating instruction sheet is in Demonstration Reference File.
EQUIPMENT: Probability demonstrator, as photographed, on overhead projector.
SETUP TIME: None.
---