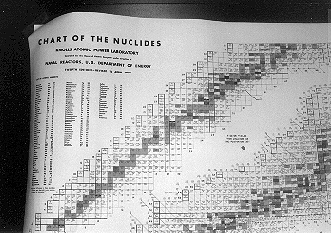 P4-21: NUCLIDES CHART
PURPOSE: Use chart of the nuclides in small class groups.
DESCRIPTION: About ten copies of the most recent chart of the nuclides are available for class use. Manual accompanying the chart, which can be duplicated for class use, discusses many aspects of nuclear theory and how the chart can be used.
SUGGESTIONS:
REFERENCES: (PIRA unknown.) See Demonstration Reference File for manual.
EQUIPMENT: Ten copies of Chart of the Nuclides.
SETUP TIME: None.
---