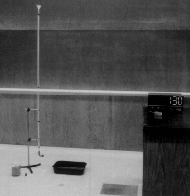 P4-12: EXPONENTIAL DECAY - WATER MODEL
PURPOSE: Model exponential radioactive decay.
DESCRIPTION: Water squirts out of the two-meter vertical tube through a capillary tube into a small tank. In each "half life" of the system, the amount of water left in the tube decreases by a factor of two. The half life of about 130 seconds is measured by the large electronic counter. Four half lives are easily observable, and the measurement is good to a few percent.
The equations for this system are identical to those for decay of radioactive nuclei, the only condition being that the amount of decay (nuclei or water gone) is proportional to the total amount of decaying material (either nuclei or water in the tube) .
SUGGESTIONS:
REFERENCES: (PIRA 7D10.40) See Demonstration Reference File for further information about this device and the equations.
EQUIPMENT: Two-meter plastic tube with green water, one foot long 1-mm capillary tube, and timer.
SETUP TIME: None.
---