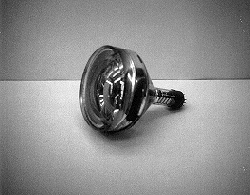 P4-05: PHOTOMULTIPLIER TUBE - LARGE
PURPOSE: Show them what a large photomultiplier tube looks like.
DESCRIPTION: This is a large (8") photomultiplier tube which was once used in a particle physics experiment. The photocathode surface (on the inside front face of the tube), the focusing electrodes, and the dynodes are all easy to see.
SUGGESTIONS: Do not drop it. Because it is heavy and made of glass, it is probably not a good idea to pass it around the class.
REFERENCES: (PIRA unavailable.)
EQUIPMENT: Large phototube.
SETUP TIME: None.
---