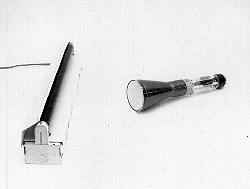 P3-64: PHOSPHORESCENCE - BLACK LIGHT AND OSCILLOSCOPE
PURPOSE: Demonstrate phosphorescence.
DESCRIPTION: An ultraviolet light illuminates the face of an oscilloscope tube, causing it to glow a bright green color. When the black light is removed, the tube screen still glows, demonstrating its phosphorescence. This effect is important in avoiding flickering when an oscilloscope or a TV set is viewed.
SUGGESTIONS:
REFERENCES: (PIRA unknown.)
EQUIPMENT: Black light and oscilloscope CRT.
SETUP TIME: None.
---