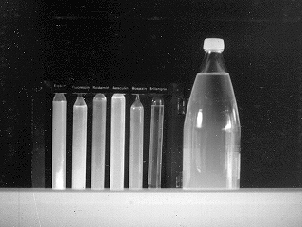 P3-61: FLUORESCENT LIQUIDS
PURPOSE: Show fluorescence of different chemicals.
DESCRIPTION: A set of liquid vials containing fluorescent materials is illuminated by an ultraviolet light source. The radiation is absorbed by the chemicals and emitted at a visible frequency, causing them to glow. Identification of the chemical is printed above each vial. The bottle at the right contains quinine water. It's almost enough to make you give up drinking quinine water.
SUGGESTIONS: Best in very dark room.
REFERENCES: (PIRA 7B13.50)
EQUIPMENT: Vials of fluorescent liquids, large bottle of quinine water, black light.
SETUP TIME: None.
---