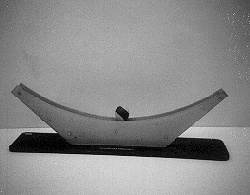 P2-43: CLASSICAL HARMONIC OSCILLATOR - QM INTRODUCTION
PURPOSE: Demonstrate the simple behavior of a classical particle moving in a quadratic field.
DESCRIPTION: Useful for demonstrating elementary properties of the motion, including turning points, the independence of amplitude and frequency, and visualizing the probability of finding the particle at different positions.
SUGGESTIONS:
REFERENCES: (PIRA unavailable.)
EQUIPMENT: Stringless pendulum demonstration.
SETUP TIME: None.
---