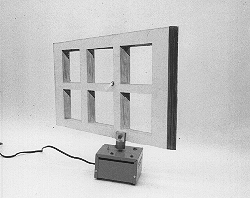 O4-31: TRAPEZOIDAL WINDOW
PURPOSE: Classic depth illusion.
DESCRIPTION: The trapezoidal window is rotated at about one revolution per two seconds by an electric motor in the box. When the taller side rotates away from us, it appears to reverse direction and rotate toward us.
Everyone knows that any object appears to get smaller as it moves away and bigger as it moves toward you. Mind over matter!
SUGGESTIONS: A soda straw has been positioned perpendicular to the center of the window. That bothers some people as it rotates, by giving conflicting depth clues.
REFERENCES: (PIRA unknown.)
EQUIPMENT: Trapezoidal window with rotator box.
SETUP TIME: None.
---